Ahmed Masoud, Come What May (Victorina, 2022)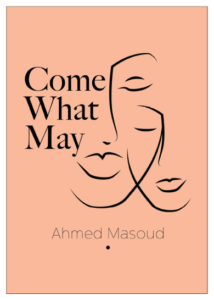 How does one investigate murder in the middle of a war zone? Does it matter if a person is killed by an airstrike or a knife?
When Zahra's husband, Ammar Bseiso, is killed in 2014 he is written off as one of the two thousand or so casualties of war. However, his thirty-five-year-old wife is convinced that her husband was murdered by a fellow Palestinian and not an Israeli airstrike. She spends two years looking for a detective who would agree to take on her case as people dismiss and ridicule her.
When Nouman El Taweel agrees to investigate the crime, Zahra begins to regret it almost immediately as the policeman uncovers the truth behind the murder, along with a network of deception, lies and corruption.
Come What May is a novel about love, betrayal and class issues in a conservative society which is isolated from the rest of the world.
Ahmed Masoud, Vanished (Rimal, 2015)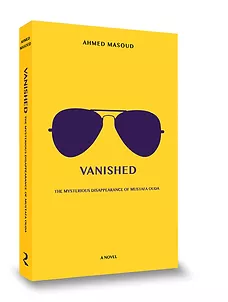 What does it take to discover the truth? Betrayal? Deception? Risking one's own life? Omar Ouda did it all. Vanished is a fictional story set against the political unrest in Palestine, following a young boy trying to find his father. The deeper he delves into his father's mysterious disappearance, the more he finds himself forced to make terrible choices, testing his loyalty to his country and his family. The book is also about friendship born out of difficult circumstances, presented here through the character of Ahmed who risks his life to help his friend in the quest to find his father. Omar's journey is fictional; however, it describes real life in Palestine's Gaza Strip between 1981 and 2011. This period witnessed three major events that have shaped the current situation – the first Intifada, the Oslo Accords and the second Intifada. While politics provide an important background to the story, the novel does not aim to put forth any political arguments. Instead, it sheds light on what it is like for two young boys to lead an ordinary life in an extraordinary place often described as 'hell on earth.'
Atef Abu Saif, The Drone Eats with Me (Comma Press, 2014)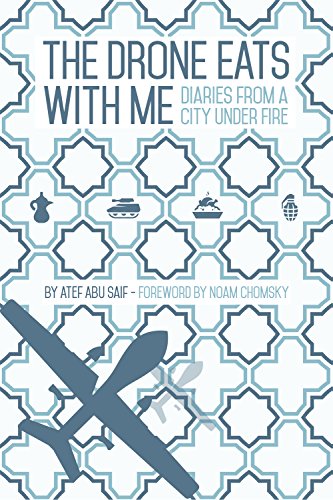 On 7 July 2014, in an apparent response to the murder of three teenagers, Israel launched a major offensive against the Gaza Strip, lasting 51 days, killing 2145 Palestinians (578 of them children), injuring over 11,000, and demolishing 17,200 homes. The global outcry at this collective punishment of an already persecuted people was followed by widespread astonishment at the pro-Israeli bias of Western media coverage. The usual news machine rolled up, and the same distressing images and entrenched political rhetoric were broadcast, yet almost nothing was reported of the on-going lives of ordinary Gazans – the real victims of the war.
One of the few voices to make it out was that of Atef Abu Saif, a writer and teacher from Jabalia Refugee Camp, whose eye-witness accounts (published in The Guardian, The New York Times, and elsewhere) offered a rare window into the conflict for Western readers. Here, Atef's complete diaries of the war allow us to witness the full extent of 2014's bombings from the perspectives of a young father, fearing for his family's safety, trying to stay sane in an insanely one-sided war.
Atef Abu Saif (ed.), The Book of Gaza (Comma Press, 2014)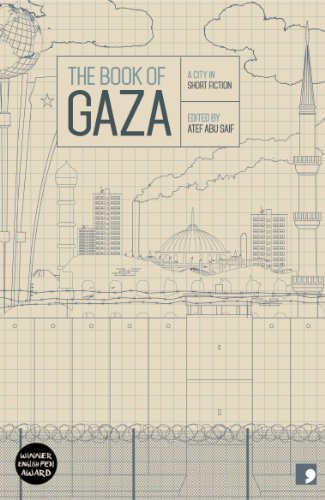 Under the Israeli occupation of the '70s and '80s, writers in Gaza had to go to considerable lengths to ever have a chance of seeing their work in print. Manuscripts were written out longhand, invariably under pseudonyms, and smuggled out of the Strip to Jerusalem, Cairo or Beirut, where they then had to be typed up. Consequently, fiction grew shorter, novels became novellas, and short stories flourished as the city's form of choice. Indeed, to Palestinians elsewhere, Gaza became known as 'the exporter of oranges and short stories'.
This anthology brings together some of the pioneers of the Gazan short story from that era, as well as younger exponents of the form, with ten stories that offer glimpses of life in the Strip that go beyond the global media headlines; stories of anxiety, oppression, and violence, but also of resilience and hope, of what it means to be a Palestinian, and how that identity is continually being reforged; stories of ordinary characters struggling to live with dignity in what many have called 'the largest prison in the world'.
Nayrouz Qarmout, The Sea Cloak & Other Stories (Comma Press, 2018)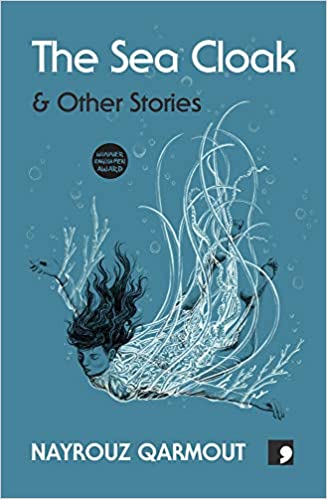 The Sea Cloak is a collection of 11 stories by the author, journalist, and women's rights campaigner, Nayrouz Qarmout. Drawing from her own experiences growing up in a Syrian refugee camp, as well as her current life in Gaza, these stories stitch together a patchwork of different perspectives into what it means to be a woman in Palestine today.
Whether following the daily struggles of orphaned children fighting to survive in the rubble of recent bombardments, or mapping the complex, cultural tensions between different generations of refugees in wider Gazan society, these stories offer rare insights into one of the most talked about, but least understood cities in the Middle East. Taken together, the collection affords us a local perspective on a global story, and it does so thanks to a cast of (predominantly female) characters whose vantage point is rooted, firmly, in that most cherished of things, the home.
Selma Dabbagh, Out of It (Bloomsbury, 2011)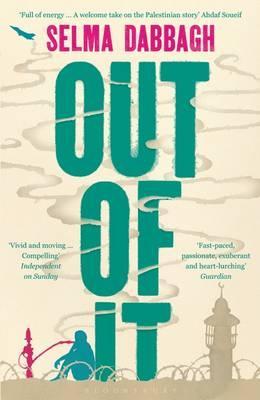 Gaza is being bombed. Rashid – an unemployed twenty-seven year old who has stayed up smoking grass watching it happen – wakes to hear that he's got the escape route he's been waiting for: a scholarship to London. His twin sister, Iman – frustrated by the atrocities and inaction around her – has also been up all night, in a meeting that offers her nothing but more disappointment. Grabbing recklessly at an opportunity to make a difference, she finds herself being followed by an unknown fighter.
Meanwhile Sabri, the oldest brother of this disparate family, works on a history of Palestine from his wheelchair as their mother pickles vegetables and feuds with the neighbours.
Written with extraordinary humanity and humour, and moving between Gaza, London and the Gulf,Out of It is a tale that redefines Palestine and its people. It follows the lives of Rashid and Iman as they try to forge paths for themselves in the midst of occupation, religious fundamentalism and the divisions between Palestinian factions. It tells of family secrets, unlikely love stories and unburied tragedies as it captures the frustrations and energies of the modern Arab world.
Basma Ghalayini (ed.), Palestine +100 (Comma Press, 2019)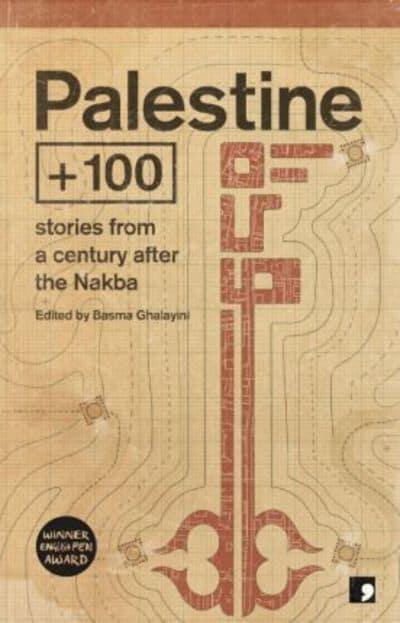 Palestine + 100 poses a question to twelve Palestinian writers: what might your country look like in the year 2048 – a century after the tragedies and trauma of what has come to be called the Nakba? How might this event – which, in 1948, saw the expulsion of over 700,000 Palestinian Arabs from their homes – reach across a century of occupation, oppression, and political isolation, to shape the country and its people? Will a lasting peace finally have been reached, or will future technology only amplify the suffering and mistreatment of Palestinians?
Covering a range of approaches – from SF noir, to nightmarish dystopia, to high-tech farce – these stories use the blank canvas of the future to reimagine the Palestinian experience today. Along the way, we encounter drone swarms, digital uprisings, time-bending VR, peace treaties that span parallel universes, and even a Palestinian superhero, in probably the first anthology of science fiction from Palestine ever.
Ibrahim Nasrallah, Gaza Weddings (Hoopoe, 2017)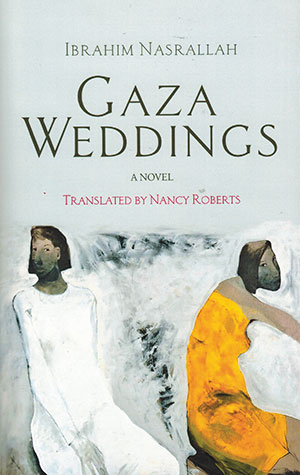 Twin sisters Randa and Lamis live in the besieged Gaza Strip. Inseparable to the point that even their mother cannot tell them apart, they grow up surrounded by the random carnage that characterizes life under occupation. Randa, who wants to be a journalist, writes to record the devastation around her, taking pictures of martyred children.
Meanwhile, their beloved neighbor Amna quietly converses with all those she has lost, as she plans the wedding of Lamis and her son Saleh. With their menfolk almost entirely absent, it is the women who take center stage in this poignant novel of resilience, determination, and living against the odds.